About the Museum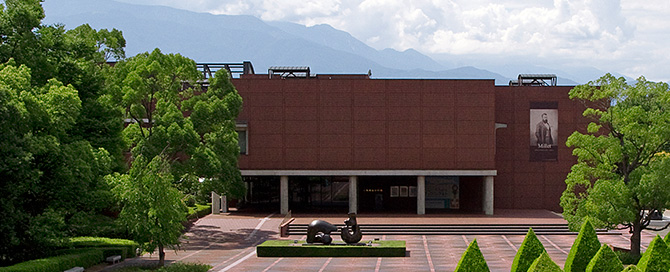 The Yamanashi Prefectural Museum of Art opened to the public in 1978. We stand firm in our commitment to cultivate art culture. Starting with the acquisition of, Jean-François Millet's The Sower, we have constantly expanded our collection with works by Millet, Corot, Rousseau, other Barbizon School artists, and major European landscape artists. The museum has come to be known as the "Museum of Millet". Furthermore, we have amassed a dynamic collection of modern and contemporary Japanese artists. The museum is proud to have surpassed 10,000 works.
In 2004, the South Wing was added to the main building, creating space for ambitious exhibitions. In 2009, the Millet Wing was added, which is dedicated to works by Millet and Barbizon School artists.
Permanent Collection A
(Millet Collection Gallery)

Art Library

1F Lobby
Information
Hours

9:00 a.m. - 5:00 p.m. (last entry 4:30 p.m.)

Closed

Mondays (unless it is a national holiday in which case the museum will be closed the following day), days after national holidays, year's end, and New Year's Day. The museum may be open or closed on special occasions.

Fees

Adults
University
students
Persons 65 or older
Persons 65 or older,
Yamanashi residents only
Permanent
Collections
520 yen
(420 yen)
220 yen
(170 yen)
Free
Free
Special Exhibition
1,000 yen
(840 yen)
500 yen
(420 yen)
1,000 yen
(840 yen)
Free
Permanent Collections
&
Special Exhibition
1,260 yen
590 yen
1,000 yen
(840 yen)
Free
Museum of Art
&
Museum of Literature
Permanent Collections
680 yen
340 yen
Free
Free

*() indicates the discount prices for advance tickets, groups of 20 persons or more and visitors who are staying at Yamanashi hotels or inns.

No admission charge:

・Students in high school or below.
・Persons 65 or older (for special exhibitions, Yamanashi residents only).
・Persons living with disabilities and accompanying persons.
・All visitors on November 20 (Yamanashi Citizen's Day).

* Those qualified for free admission, please receive tickets at the ticket counter.
* Present your ID: driver's license, medical insurance, student ID, or any valid identification.
Discounted Tickets

The following discounted tickets are available.

[Tourist Discount]
Please present vouchers or receipts from Yamanashi hotels or inns, on the day of the stay or the day after. You will receive a 20% (subject to change) discount from admission.

[Annual Passport]
One year unlimited admission for any of our collections and exhibitions. A perfect gift for art lovers!

Adults
University
students
Annual
Passport
3,140 yen
1,570 yen

[Museum Kai-in Passport (Annual Passport for 4 differentprefectural museums)]
One-year unlimited admission for any of the Collections and Exhibitions in the four prefectural museums in Yamanashi; including Prefectural Museum of Art, Prefectural Museum of Literature, Prefectural Museum of Archaeology and Prefectural Museum. In addition, 42 museums in the Museum Kai Network offer the passport holders discounts and special privileges.

Adults
College
students
Museum Kai-in
Passport
5,240 yen
2,620 yen


>>Museum Kai Network
Services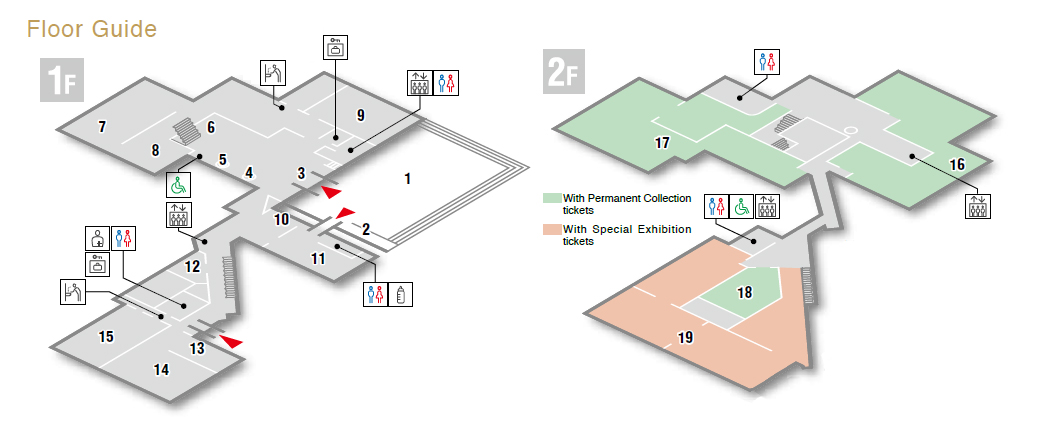 1F

1.

Pilotis


2.

Ramp


3.

Main Entrance


4.

Information


5.

Ticket Counter


6.

Gallery Eco


7.

Community Gallery A


8.

Community Gallery B

9.

Community Gallery C


10.

Museum Shop


11.

Restarant


12.

Art Library


13.

Workshop Room


14.

Studio


15.

Lecture Room
Parking

Free parking for 345 cars, 16 buses, and 6 cars for those with disabilities.

Lockers

Free-of-charge lockers(100-yen coin will return after use).

Information Desk

We provide information about the museum, transportation, and more. Baggage and coat check service is also available at the desk.

Wheelchairs and Baby Buggies

Please ask our museum staff for wheelchairs and baby buggies.

Restroom for Ostomates, Baby Seats, and Nursing Room

We have a restroom for ostomates and a nursing room as well. Baby seats are available in restrooms.

restroom for ostomates

nursing room

Museum Shop

Museum Shop is located on the 1st floor. Catalogs, books, postcards, reproductions, and other merchandise are available.

Restaurant - "Art Archives"

Approximately 70 seats are available at the Art Archives.
055-232-3855
Hours: 9:30 a.m. - 5:00 p.m. (last order 4:30 p.m.)

For Visitors Inside the Galleries

For an agreeable environment, please abide by the following requests:


Do not touch the exhibits.
Photography by camera, video, etc. is prohibited.
Smoking is prohibited inside the museum.
Eating and drinking is prohibited (including candy and gum).
Please use the free lockers for large luggage.
Use of writing implements other than pencils are prohibited.
Use of mobile phones and other devices that generate sound is prohibited.
Pets are prohibited (except for guide dogs).
Access
From JR Kofu Station

Take a bus departing from JR Kofu Station (South Exit) Bus Terminal to Yamanashi Kenritsu Bijyutsukan Bus Stop (approximately 15 minutes).

・Board a Midai bound bus.
・Board a Shikishima bound bus via Ryuo.
・Board a Nirasaki Station bound bus via Okusa.
・Board a Kugawa-Danchi bound bus.


By taxi, approximately 15 minutes.

By Train to JR Kofu Station


By Expressway Bus

[From Tokyo]
Board a Kofu-bound bus (Shinjuku-Kofu line) at Shinjuku Expressway Bus Terminal. Approximately 2 hours and 10 minutes to JR Kofu Station.
[From Nagoya]
Board a Kofu-bound bus (Nagoya-Kofu line) at Nagoya Station, Osaka. Approximately 4 hours to JR Kofu Station.
[From Osaka]
Board a Kofu-bound bus (Kyoto/Osaka-Kofu line) at Abenobashi Station, Osaka. Approximately 8 hours and 40 minutes to JR Kofu Station.

* For More details, please refer to the Yamanashi Kotsu website.

By Car

From Kofu Showa IC (Chuo Expressway):

Proceed in the direction of Shosenkyou/Yumura from the toll booth, go 200 meters and turn left. Continue on, then turn left at Saijyo Kita, go approximately 2 kilometers and turn left at Kugawa Koban Mae, then go approximately 1 kilometer on Route 52. The museum is located on the left.

Google Maps

Map